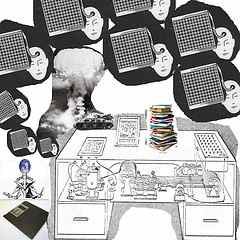 Photo Credit: "Collagist Summary" by Derek Mueller
In this course, we will examine The New Media Reader, an anthology of new media scholarship. We will attempt to understand how computer scientists, artists, architects, literary writers, interface designers, cultural critics, and other scholars have theorized and used new media technologies. In addition to reading this anthology, we will also carry out a research project in which we consider how we might add to the text. What new media scholarship might be a useful contribution to a future edition of The New Media Reader? Anthologies present an ongoing scholarly discussion about a topic, and our task will be to both analyze that conversation and contribute to it.
Disciplines are not static entities; they constantly change and evolve, and disciplinary boundaries are porous. Increasingly, writing across the university also takes place in interdisciplinary collaborations. In interdisciplinary work, disciplines come into conversation with one another, sometimes overlapping and sometimes colliding. By studying these overlaps and collisions, students in this course will prepare themselves for reading, research, and writing in upper-level college courses. This course also prepares students for future Writing Intensive classes by asking them to consider how research and writing take place across the university in broad disciplinary and interdisciplinary patterns.